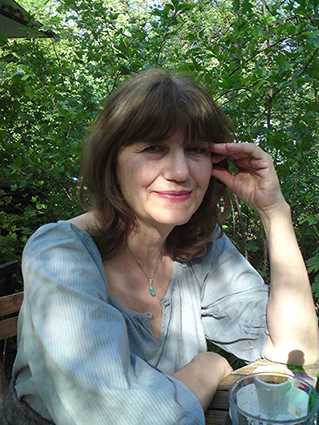 When I was a child I knew that I was born to be an artist.
At the age of thirteen I started to visit private lessons in drawing and painting in order to apply for the National Academy of Fine Arts six years later.
But it happened that the direction of my life unexpectedly had been turned aside and I became a mining engineer (MA, Mining and Geology University, Sofia, 1978). Despite the practising this profession for twelve years, I had never abandoned my idea of becoming an artist and in 1989 (the year of the democratic changes in my country Bulgaria) I decided to quit my job and to dedicate the rest of my life to my first and strongest desire. I was 35.
It was a good chance that immediately after leaving my job, friends of mine allowed me to help in their restoration studio. There I had the opportunity to closely observe and touch Bulgarian icons from 18th and 19th century, painted by unknown iconographers.
The purity of the feeling radiating from these icons, inspired me to start studying the Bible and later the philosophy of the Byzantine pictorial system. My interest in this matter led me to my theological education (MA, Sofia University "St Kliment Ohridski" - Theology Faculty, 2000).
When I left the restoration studio two years later, I was already mastering the technique of icon-painting on wooden panel, which gave me the possibility to continue my work as an independent artist.
I started to develop a kind of symbolic art, in which I was supported by my knowledge of the Byzantine pictorial heritage, on the one hand, and my emotional attraction to the Bible text, on the other.
Unveiling the message of the Biblical events was an extraordinary emotional process for me.
Every grabbed handful of this treasure I was turning into an image. When I was painting the healing of the man born blind, I also began to see; I came back to life together with the resurrected Lazarus; I took my place in the queue behind the Christ's disciples waiting for Christ to wash my feet too.
In this way, little by little, creating images, I was also touched by the healing hands of Christ. The intellectual and the emotional parts of my personality had been joined and I obtained the necessary spiritual firmness to turn my attention to the Old Testament – conflicting and even brutal in its truthfulness writing, where the human nature is revealed in its entire power and beauty.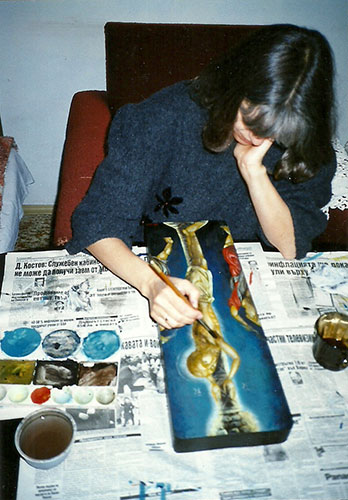 Such an emotional examination of the Bible led me to the inventing of a new iconography of the Biblical events. I continue to work in this direction. Meanwhile I developed a special lacquer technique, based on the traditional Byzantine iconographical technique on a wooden panel.
My works have been exposed in more than forty individual exhibitions till now, in Bulgaria (Sofia, Vidin, Pleven, Plovdiv), Macedonia (Struga, Bitola), Greece (Thassos, Drama), North Holland (Egmond Binnen, Den Haag, Amsterdam, Leeuwarden, Drachten, Warmenhuizen, Castricum, Audkarspel), Norway (Svalbard), France (Grenoble, Vienne), Italy (Venice), UK (London), Germany (Freiburg).
In 2016 I published my book "Watercolour bible", where are collected my works inspired by the first chapters of Genesis. Here I represent my interpretation of the Creation of world and Man. The illustrations are my previous compositions on this matter rehashed in watercolour drawings.
Now I am working on a series of works based on the Gospel according St. Mark. I am concentrated especially on the miraculous healing gestures of Christ. The newborn images, painted on wooden panels, will be gathered in my next book.